8 Ridiculously Fun Restaurants in Dallas, Texas
Cidercade
The Gallery Lounge
XOXO Dining Room
The Dinner Detective
Punch Bowl Social
Magic Time Machine
Electric Shuffle
Game Theory Restaurant + Bar
There are several restaurants in Dallas you're going to want to visit for a guaranteed good time! The vibrant and exciting restaurant scene in this world-class city includes many themed restaurants that make it impossible not to enjoy your night out. Besides the relaxed environment, these spots have some truly excellent menus. To help you find some of the most fun spots in Dallas, check out this list of restaurants below.
2777 Irving Blvd #200, Dallas, TX 75207, United States
(214) 208-1922
Cidercade is a an arcade bar serving up some really tasty cocktails. They do not have a food menu here; however there are usually a bevy of excellent local food trucks outside, so you can order food to this spot, or bring your own food with you. The fun is endless, especially if you like playing all kinds of games, and they have over 140 to choose from. Wow! Bring some friends for some healthy competition. You can just purchase a day pass, or they offer a monthly subscription if you want to enjoy unlimited gaming.
1325 Botham Jean Blvd, Dallas, TX 75215, United States
(214) 778-6777
Dip your feet in this rooftop swimming pool while enjoying a drink at The Gallery Lounge. You will also be able to enjoy some of the most gorgeous views of the city's amazing skyline. They offer refreshing small plates like crispy wings, fish tacos, shrimp ceviche, and pulled pork nachos. Pool hours are from 9 am to 8 pm every day. It can be a tough spot to get into, but if you get the opportunity to go and soak up the vibes, you should take it. They mainly offer light bites, but the drink menu is what most people love about this spot.
3121 Ross Ave, Dallas, TX 75225, United States
(496) 669-9726
For a fun brunch with friends, we highly recommend this place . The décor alone is stunning, and they have created such a cozy dining area. This is arguably one of the most Instagram-worthy restaurants in Dallas. Most people can't resist the urge to take a photo at XOXO Dining Room. Brunch in the garden is the ultimate experience. Call ahead to make a reservation to ensure you won't have to wait when you arrive. Shrimp spring rolls, lamb chops, impossible meatballs, French toast, and avocado toast are just some of the tasty dishes on the menu.
1600 Pacific Ave, Dallas, TX 75201, United States
(866) 496-0535
The Dinner Detective is a great spot for date night. You never know what to expect, but you will be immensely entertained. It's an interactive murder mystery dinner show. You will solve some hilarious mysteries while you feast on delicious food. Get tickets early on so that you don't miss the show. They accept groups of almost any size if you want to go for a birthday. The menu includes items like grilled salmon, glazed chicken breast, and greenhouse salad. Your ticket will cater for a satisfying dinner as well. It's not an ordinary dining experience, and definitely something worth checking out!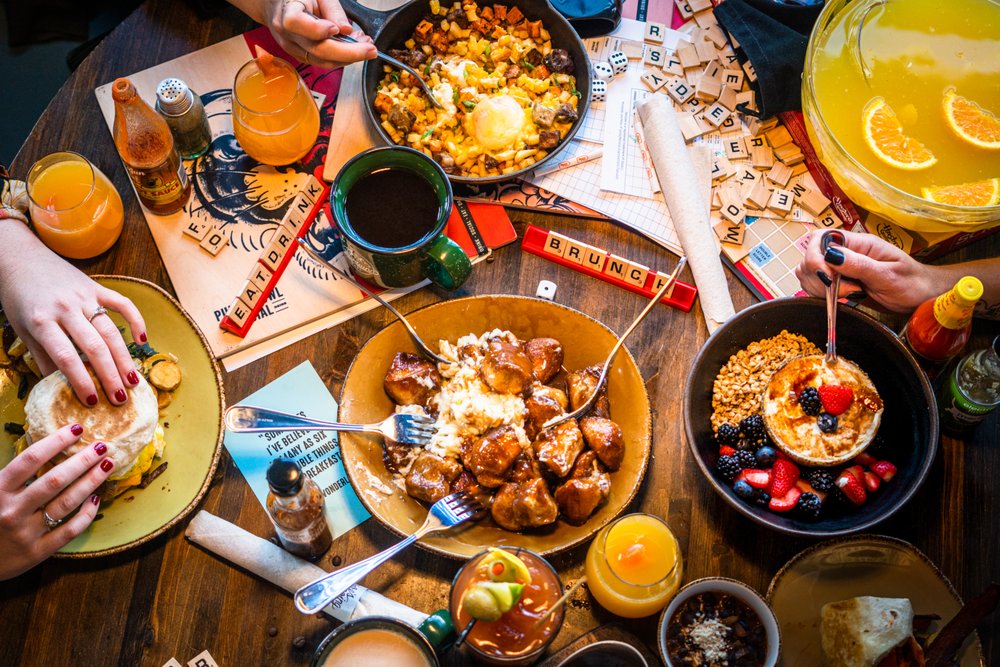 2600 Main St, Dallas, TX 7522, United States
(469) 607-6880
Punch Bowl Social takes fun to another level. They have a scratch kitchen, three bars, and a lot of entertainment. There is ping pong, karaoke, wall scrabble, bowling, and old-school arcade games. You can practice your draft beer ordering skills with their extensive drink menu. Seared salmon, steak frites, roasted beef salad, and chicken and waffles are some dishes on the main menu. Not many people can resist the good food and entertainment. You can get vegetarian, vegan, or gluten-free meals here if you like. There is brunch on weekends and happy hour from Monday to Thursday. Check this spot spot out for some fun all week!
5003 Belt Line Rd, TX 75254, United States
(972) 980-1903
The Magic Time Machine opened its doors in the 70's and still looks the exact same. The family restaurant is a lot of fun because of the energetic environment. They have a cocktail lounge where you can enjoy drinks with friends after hours. Dishes like hand-cut fresh salmon and slow roasted prime rib make their menu special. Do not skip dessert because their options are delicious. There is no dull moment at the restaurant, and the service is amazing. Make sure to stop by with friends or family to enjoy the atmosphere and the food.
2615 Elm Street, Dallas, TX 75226
(469) 382-9888
Electric Shuffle was "Build for Friends, By Friends." The people here wanted to create a space where you can come relax, unwind, have some great fun, and share in delicious food and drinks with your friends. What makes it unique is that this was the first attempt by the owners to ever launch their own bar! They also spend a lot of time and effort to bring shuffleboard into the 21st Century. Their innovative electric shuffleboard technology enables groups of up to 24 people to play and keep score seamlessly! You can make a reservation for 90 minutes and the table is all yours! No sharing required. Oh, did we mention that they also have a delightful brunch? It's safe to say that the people here have pulled off this new concept brilliantly and Electric Shuffle is now a go spot for many around town.
804 South Main Street, Fort Worth, TX 76104
(817) 717-6443
The people at Game Theory Restaurant + Bar believe that you should be able to experience a fun game night any time of year. So they took it upon themselves to create a space for people where you can enjoy great food and drinks, impeccable service, and vast game library that you can use to flex your board game skills on your friends and loved ones! Do you want to show your friends how to build the longest road in Settlers of Catan? Or maybe you just want to show no mercy in a simple game of UNO. Board games bring people together and the founders of Game Theory have experienced that first hand. That's why there is something for everyone here, if you've played, they've got it. One thing is for certain, you've never had a night out like this and you'll certainly be ready to come back for more!
For more information on where to eat and drink in Dallas, visit our city page!
Editors Note: This article was originally published on May 24, 2022 and last updated on May 23, 2023. Please refer to restaurant websites and social media pages for the most up-to-date information.