The Best Brunch Places in Dallas, TX
Yolk
Meddlesome Moth
Dream Café
Bread Winners
Blue Mesa Grill
Toulouse Cafe and Bar
Henry's Majestic
Street's Fine Chicken
The Rustic 
Ida Claire
Roy G's
Pie Tap Pizza Workshop & Bar
Mercat Bistro
Whisk Crepes Cafe
Hero
While Brunch seems like a relatively new wave of culinary experiences – it has actually been around dating back to the 19th century in England! It first became popular in the United States back in the 1930s and today it's a part of our culture. Here is a list of some of the best brunch places in Dallas, Texas.
8315 Westchester Drive, Dallas, TX 75225
1722 Routh Street, Dallas, TX 75201
Founded back in 2006 in Chicago, Yolk has taken Dallas by storm with their expansive menu that has a little something for everyone. Whether you're looking for Yolk bagged coffee to fuel your daily grind, or looking to dine Yolk is an experience to try. For those looking searching for the ultimate sweet brunch experience, your search may be over, as Yolk is famous for their Red Velvet French Toast which takes Red Velvet cake, dips it in Yolk's famous secret batter, grilled, and topped with strawberries and cream. Voted "best breakfast" in five cities – Yolk should definitely be on your brunch dining list.
1621 Oak Lawn Ave, Dallas, TX 75207
Known for being Dallas' first true gastropub, Meddlesome Moth gives you an amazing brunch experience with a host of different types of beer on tap for you to indulge in. Meddlesome Moth is a traditional brunch done right with everything from sticky buns to incredible shrimp & grits with jalapeno gravy. The Mother and Child is also a must-have with delightfully crisp fried chicken served alongside homestead grits and scrambled eggs. Alongside an expansive beer tap list, Meddlesome has fantastic cocktails to pair with your brunch including "The Noble Bird" which comes with vodka, elderflower liqueur, cucumber, lime, simple syrup, and sparkling wine. Dine alone, or host your rehearsal dinner, Meddlesome Moth has you covered.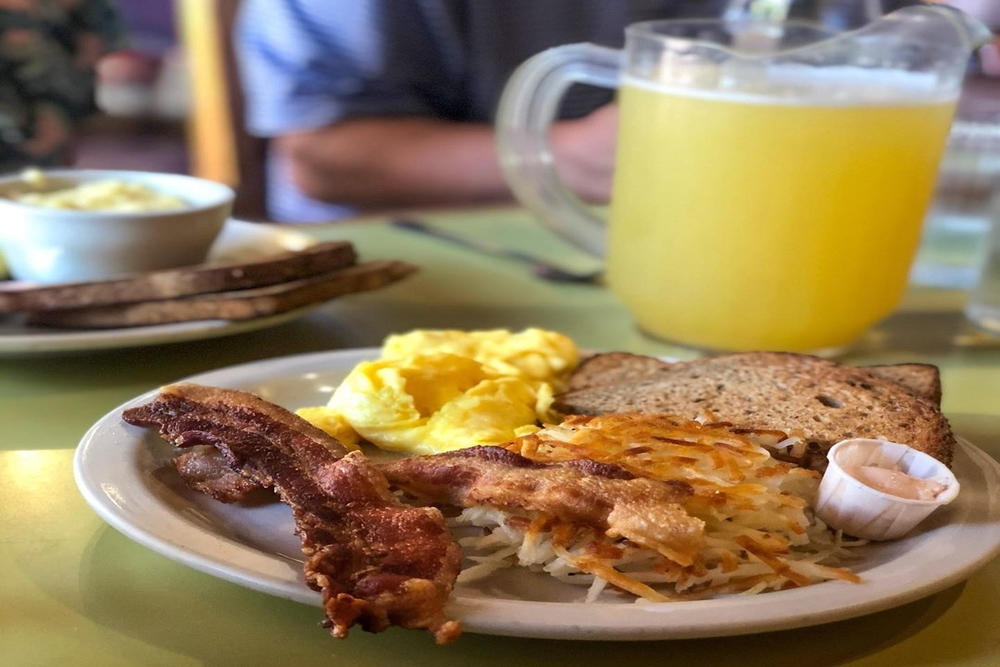 2800 Routh St. Dallas, TX 75201
6465 E. Mockingbird Ln. Suite 360, Dallas, TX 75214
A Dallas staple dating back to 1988 – Dream Café has something for everyone, with brunch options for meat-eaters, vegetarians, and vegans. The Crab Cake Benedict is a must-have for any Crab Cake enthusiast as it pairs two giant Crab Cakes with two perfectly poached eggs and a delicious hollandaise. Looking for something even more indulgent? The Monte Cristo is a grilled french toast sandwich with smoked ham, turkey, and Swiss cheese, with a light coating of powdered sugar served with honey mustard and a cup of fruit. Another favorite is the Austin Tacos which takes two whole wheat tortillas rolled with eggs, bacon, and potatoes and topped with a delicious salsa crema. One of the brunch places in Dallas not to be missed!
5560 W Lovers Lane, Dallas, TX 75209
3301 McKinney Ave., Dallas, TX 75204
8687 N Central Expressway, Dallas, TX 75225
Starting with banana bread french toast to the Croque Madam, Bread Winners leaves your tastebuds tingling with deliciousness throughout its menu. For you chicken and waffle lovers, the fried chicken and waffles use jalapeno bacon cheddar waffles with crispy chicken cream gravy, hot sauce, and delicious maple syrup. If you're looking for something new – the french ham benedict comes with a freshly baked croissant, asparagus, smoked ham, and a decadent hollandaise. For those of you, that love baked goods take advantage of Bread Winner's bakery and grab a loaf of freshly made bread or any one of their incredible baked options.
14866 Montfort Drive, Addison, TX 75254
612 Carroll St, Fort Worth, TX 76107
8200 Dallas Parkway Plano, TX 75024
While just outside of Dallas, Blue Mesa Grill cracks the list with its unique all-you-can-eat brunch and mimosa option. Whether you're in the mood for waffles, omelets, adobe pies, or tacos – Blue Mesa Grill has you covered. The carving and street taco station comes with four delicious options: smoked brisket, red chile salmon, grilled chicken, or BBQ pork. Get waffles made two ways with their fluffy Belgian waffles topped with berries or go savory and enjoy some delicious fried chicken & waffles. Blue Mesa Grill is decadent brunch means buffet – an absolute win for anyone that brings their appetite and tastebuds!
3314 Knox Street, Dallas, TX 75205
Who DOESN'T love class New Orleans style beignets? Toulouse does the staple New Orleans dish with respect creating perfectly fluffy beignets with a rich cappuccino dipping sauce to kick off your brunch experience. From there indulge your sweet tooth some more with their Orange French Toast which comes topped with powdered sugar, berries, and mascarpone cheese, or go the savory route and get the beef hash which comes with sauteed spinach, caramelized onions, a pair of poached eggs, and topped with a rich bearnaise sauce. Looking for something a little less rich? The Ahi Tuna Tartar tastes deliciously fresh and comes served with a ginger dressing and compressed seasonal melon for a truly delightful experience.
4900 McKinney Ave, Dallas, TX 75205
For you cocktail lovers, Henry's Majestic features an incredible vast brunch cocktail menu lead by The Dude Abides which comes with rum, coffee liqueur, and espresso. Mimosa's more your thing? Henry's has champagne options so you can create your favorite cocktail! While you're there bring your appetite as Henry's Majestic also has fantastic food options including their PB+J waffle that comes with peanut butter crumbles and housemade strawberry jam. Feeling something savory try the charred tomatillo chilaquiles that come with their rotisserie chicken, lime crema, cotija, and a sunny side up egg. If you're just looking for something to munch on you can't go wrong with a side of the jalapeno bacon!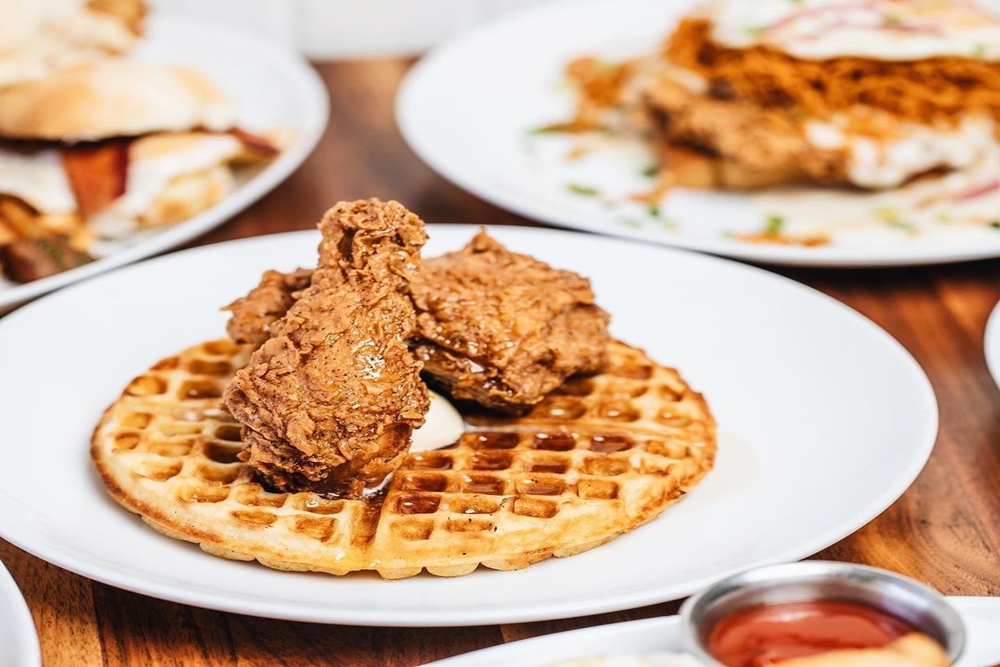 3857 Cedar Springs Rd. Dallas, TX 75219
5211 Forest Lane #108, Dallas, TX 75244
Fried chicken lovers look no further because as of 2018, Street's Fine Chicken has brought their talents to the brunch menu. With brunch items capped at $11, Street's Fine Chicken gives you incredible value for your dollar while providing you with top-quality menu items. The Show Bird comes with thick toast with a boneless fried chicken breast, jalapeno gravy, fried sweet potato strings, pickled onion, and a fried egg leaving you with a happy stomach and happier wallet. If you're looking for a more traditional brunch item – the chicken and waffles pairs their renowned fried chicken with the perfect Belgian waffle for an absolute experience.
3656 Howell St., Dallas, TX 74204
If you're looking for the best brunch places in Dallas with more than just food – The Rustic pairs live music with traditional brunch food options. The brunch menu options have you covered from avocado toast to delicious Nashville-style hot chicken paired with a dill pickle for that perfect bite. The baby fried toast comes with hand-cut challah that's been absolutely soaked in delicious vanilla custard and topped with their own housemade rosemary syrup. Bring friends and enjoy their carafe sized cocktails, or enjoy one of their french press coffees to go with the butcher shop skillet that comes with bacon and sausage from Rudolph's Market. If you're from out of town and looking for a true Dallas experience – the cheese and fruit plate introduces you to local cheeses and pairs it with a honeycomb, assorted bread, and fresh fruit.
5001 Beltline Rd, Dallas, TX 75254
(214) 377-8227
This southern-inspired restaurant has a lot to love, starting with the Nashville hot chicken. This spicy fried chicken breast is served with pimento cheese toast, pickles, and pickled red onions. The catfish po boy has a fresh piece of fish fried with cornmeal, and topped with tomatoes, southern slaw, house pickles, and comeback sauce. You can't go wrong with a Monte cristo, loaded up with country ham, aged white cheddar, peppered bacon, powdered sugar, and house jam. For drinks, every cocktail on the Hair of the Dog menu is a winner, especially the Proud Mary, their Cajun take on a Bloody Mary with Tito's vodka, Worcestershire, Louisiana hot sauce, kicked up mix, summer sausage, and even an Old Bay coating on the rim. Or you can opt for some simple and divine French press coffee.
4001 Cedar Springs Rd, Dallas, TX 75219
(214) 272-7127
Every Saturday and Sunday from 11:00 AM to 3:00 PM, Roy G's is slinging some insane brunch foods. The Henny Benny consists of two buttermilk biscuits topped with pickle-brined fried chicken, poached eggs, breakfast sausage cream gravy, and green onions and served with either breakfast potatoes or fruit. Combine sweet and savory with their French Toast Sammy, which has an over medium egg, bacon, and maple syrup (and don't skimp on adding fried chicken). Go full glory and split a Champagne Tower among the table.
1212 Oak Lawn Ave, Dallas, Texas 75207
(469) 677-0997
Pie Tap does some remarkable things with pizza, but they put on a mean brunch, starting with a $3 mimosa, available plain, or with blackberry or pineapple. You should also check out their flavored martinis, like espresso and cannoli. Pizza is their bread and butter, so it should be no surprise that they make several fantastic breakfast varieties. The mushroom & egg pie is packed with cremini & shiitake mushrooms, bacon, egg, caramelized onions, and fontina cheese, and the smoked salmon pie has Icelandic smoked salmon, ricotta, red onion, dill, capers, house-cured egg yolk, and lemon zest. If you're not in the pizza mood, check out either the breakfast sandwich (house-made spicy maple sausage, bacon, sunny side farm egg, smoked cheddar, calabrian chili aioli, tomato, and arugula on a house-baked sourdough roll with a side of roasted calabrian potatoes) or the absolutely massive blueberry pancake.
2550 Harry Hines Blvd, Dallas, TX 75201
(214) 953-0917
This bistro serves up French favorites, with brunch on Saturdays from 10:00 AM to 3:00 PM and on Sundays from 10:00 AM to 5:00 PM. Check out the strawberries romanoff crepes with creme chantilly, strawberry compote, and fresh strawberries. There's also the quiche lorraine with bacon lardons, gruyere, caramelized onion, and frites. A rich option would be the Parisian gnocchi, a pâte à choux dumpling served with roasted mushrooms, asparagus, and sauce vierge.
1888 Sylvan Ave Suite F-120, Dallas, TX 75208
(469) 407-1899
This cozy cafe offers crepes and espresso drinks. Do we even need to go on? Well don't worry, we will. Quench your thirst with mimosas and mimosa carafes, plus they specialize in all of the espresso classics, so you can sip with relish on cappuccino, macchiato, or go to the next level with a nutella latte. To eat, there's a number of sweet crepes like Notre Dame (nutella, strawberries, bananas, vanilla ice cream) and Cookies & Cream (cookie cream, strawberries, vanilla ice cream, chocolate sauce, and crushed cookies) as well as savory crepes like the Tex-French Cantina (locally-smoked brisket, sunny side up egg, swiss, tomatoes, jalapenos, salsa verde, and avocado) and the Monte Cristo (ham, turkey, gruyere, dijon, and a side of preserves).
3090 Olive St, Dallas, TX 75219
(469) 300-4199
This sports bar is located right next to American Airlines Center, so grab a bite and a drink before catching a Mavericks game! Nobody has ever complained about French onion dip and your party won't break that trend. Start with this for the table, with crispy jalapeno and onion petals. For your entree, check out the berries and cream waffle, with two buttermilk-pecan waffles, bruleed bananas, candied pecans,and salted butter, drenched in bananas foster sauce. Or consider the chorizo gravy skillet with herb-roasted redskin potatoes, chorizo gravy, two sunny side eggs, chimichurri, green salad, and toast.
Editor's Note: This article was originally published on November 10, 2020 and last updated on January 7, 2022. Please refer to restaurant websites and social media pages for the most up-to-date information.