8 Essential Broadway Restaurants in Nashville
Party Fowl – The Gulch
Biscuit Love: Gulch
Prince's Hot Chicken South
Husk
Hattie B's Hot Chicken
5th & Taylor
The Stillery
Monell's Dining and Catering
Nashville is called Music City in large part because of its iconic Broadway. It's home to many a honkytonk with soon-to-be-huge country stars on stage crooning their songs to thrilled visitors and locals alike, And while this experience is so amazing, enjoying a fantastic meal is a big part of Nashville as is the live music scene. So we've come up with the some of the best Broadway restaurants in Nashville to hit for a delicious meal before you enjoy Nashville's incomparable music scene.

Photo credit: usarestaurants.info
Party Fowl – The Gulch
719 8th Ave S Nashville, TN 37203
(615) 624-8255
This original location of one of Nash's most venerable chicken diners is not to be missed when in town. The spacious dining area is super casual but the food is on point and Party Fowl serves up some of the tastiest Hot Chicken in the city. The spiciest "poultrygiest" level of heat on their bird is only for the most daring as even the mild has a little kick to it. Snag one of their signature "fromosas" (frozen mimosas) to cool down your tastebuds while you enjoy a Hot Chicken and Beignets for a French twist on this southern staple.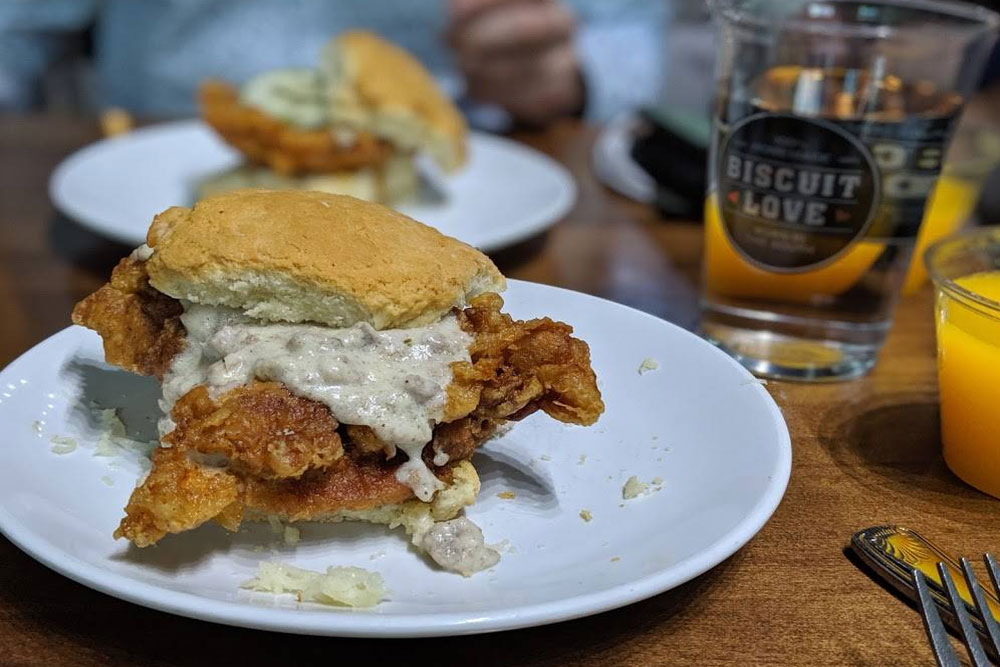 photo credit: usarestaurants.info
Biscuit Love: Gulch
316 11th Ave S Nashville, TN 37203
(615) 490-9584
The line will be long but don't wait around because it will only get bigger while you decide to jump in and make your way to the counter to order. You won't regret the wait though because the biscuits and cinnamon rolls here are worth the wait (and calories). Get ready to brunch it up every day of the week at Biscuit Love with their pillowy-soft biscuits alongside a Lavender Latte or a heavily garnished The Bloody, their gorgeous bloody Mary cocktail.

photo credit: roadfood.com
Prince's Hot Chicken South
5814 Nolensville Rd Ste 110 Nashville, TN 37211
(615) 810-9388
Legend and history have it that Prince's chicken is the original Nashville Hot Chicken recipe, so a visit to Music City wouldn't be complete without a taste of Prince's. Of all of our best Broadway restaurants in Nashville, Prince's spice is the hottest. Expect a wait to order and grab your hot bird meal and then be ready to quench the fire of your XXX hot sauce (if you dare!) with some icy sweet tea. Most people love the Andre' Sandwich and some southern collard greens on the side in addition to the coleslaw that comes with the meal.

photo credit: usarestaurants.info
Husk
37 Rutledge St Nashville, TN 37210
(615) 256-6565
The Broadway historic district is also home to Husk, a gorgeous farm-to-table restaurant located in an historic large home. Perfect for a celebratory meal or even just to enjoy Husk's happy hour or brunch experience, meals here are fresh and big enough to share. The romantic ambiance and subtle lighting add to the feel of this special place but you will come back for the classic southern dishes executed perfectly like the shrimp and grits or the trout with mustard greens. If you are feeling adventurous, sample the Kentuckyaki Glazed Pig Ears served in lettuce wraps for an Asian-Southern fusion taste that you won't forget.

Photo credit: dallasobserver.com
Hattie B's Hot Chicken
112 19th Ave S Nashville, TN 37203
(615) 678-4794
One of the most well-known hot chicken houses in Nashville, Hattie B's makes ordering easy with a "bones/no bones" start and ending with choosing your heat level. Visitors here don't mind the inevitable wait to order food here because the spicy chicken, mac and cheese and baked beans at Hattie B's are nothing short of amazing. And don't forget to grab some Hattie B's merch so you can sport their red (hot) chicken logo at home as a reminder of the amazing food sampled in one of the best Broadway restaurants in Nashville.

photo credit: travelcoffeehot.com
5th & Taylor
1411 5th Ave N Nashville, TN 37208
(615) 242-4747
Stunning warehouse space-turned-restaurant, 5th & Taylor lives up to the hype. Gorgeous enough to host weddings but still intimate and relaxed, 5th & Taylor does the impossible by being both at once. This dinner destination serves up crave-worthy dishes you will remember long after your visit like their beer can chicken (trust me) and the filet, both stellar choices. Finish off your meal here with their chocolate pudding cake and a southern whiskey to get the full experience.

photo credit: Postmates
The Stillery
113 2nd Ave N Nashville, TN 37201
(615) 942-8080
Snag a signature mason jar cocktail like the Stillery Sour and cozy up to the bar upstairs as you wait for your table and enjoy the live country music before dinner. Dinner here is full of surprising choices that you will love like the house-made soft pretzels with spicy pub cheese starter and the Hot Chicken Pie, a great Italian twist on the spicy chicken Nashville is so famous for.

photo credit: usarestaurants.info
Monell's Dining and Catering
1235 6th Ave N Nashville, TN 37208
(615) 248-4747
Plan for a trip to Monell's for a delicious breakfast or wait until they reopen as a dinner spot for a meal here. Either way, you will love everything about this quaint, family-style place located in a beautiful red brick house. Unique to Monell's is sitting at a table with people you may or may not know, bringing a southern charm to meals. Make sure your brunch plate includes a taste of the cheese grits but the dinner menu changes daily so be sure to take a bite of everything served up as Nashville locals will tell you it's just like your mama made (or maybe a little better, but we won't tell if you don't).