Where to Get the Best Hot Brown Sandwich in Louisville KY
The Brown Hotel
The Café
Derby Café
Bluegrass Brewing Co
Troll Pub Under the Bridge
Sidebar at Whiskey Row
Big Bad Breakfast Louisville
D. Nalley's
Louisville is home to the hot brown sandwich, originally developed for the Brown Hotel in the 1920s. A Hot Brown is an open-faced turkey breast sandwich covered with bacon, tomatoes and smothered in a delicious mornay sauce. This isn't your ordinary turkey sandwich, it's a little bit of breakfast and a little bit of lunch, with many restaurants now putting their own unique spin on it. When you're eager to order a delicious hot brown sandwich, there are plenty of restaurants to choose from in Louisville.
335 W Broadway, Louisville, KY 40202
(888) 888-5252
The Brown Hotel is the OG when it comes to the hot brown sandwich, so it has to be at the top of the list, right? Whether you're staying at the hotel or not, you can visit the restaurant inside the Louisville landmark. The restaurant, also known as the J. Graham Café, has a warm atmosphere and a casual menu. They're open for breakfast, lunch, and dinner, and reservations are always recommended. You'll find plenty of southern classics on the menu, and a buffet is often available during lunch.
731 Brent St STE 102, Louisville, KY 40204
(502) 589-9191
The Café is a casual spot in the heart of Louisville, found within a renovated warehouse. Whether you sit inside or out on the patio, you'll be able to access the menu featuring southern favorites. In addition to the Kentucky Hot Brown, you can also find pork chops, shrimp & grits, and more. Fresh juices are squeezed on-site give you some delicious drinks to enjoy alongside your meal.
704 Central Ave, Louisville, KY 40208
(502) 637-1111
The Derby Café & Bourbon Bar is found inside the Kentucky Derby Museum. When you find yourself around Churchill Downs, this is where you can go to enjoy not only a Hot Brown but also a mint julep. The location is only open for lunch, so you'll want to plan accordingly. Menu items include a Kentucky burgoo stew, chicken salad sandwiches, and more. Plus, there are a few sweets that are made fresh, including the Kerns Derby-Pie, so you should save room.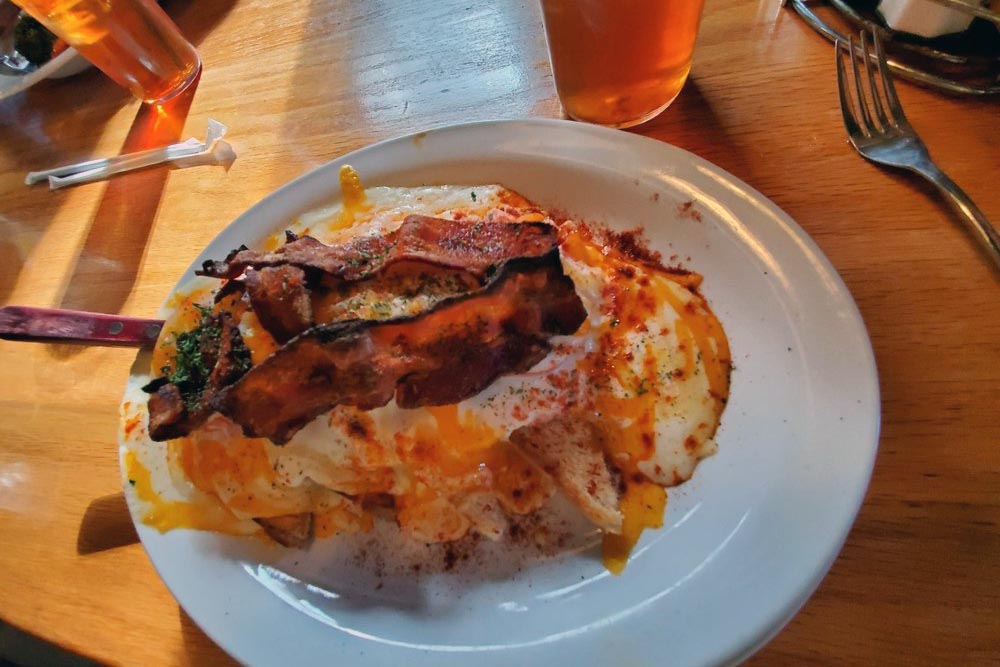 300 W Main St, Louisville, KY 40202
(502) 562-0007
Bluegrass Brewing Co is a laidback microbrewery where you can taste the latest of what's on tap while enjoying a bite to eat. You'll find that the menu consists of traditional pub grub, but the chef puts a unique spin on the Brown Hot Sandwich. The rustic interior offers plenty of places to sit, and there's a foosball table for some friendly competition, too. They're open until midnight Tuesday through Saturday and closed on Sundays and Mondays.
150 W Washington St, Louisville, KY 40202
(502) 618-4829
The Troll Pub Under the Bridge is a place you should visit simply because of its unique name. The sports bar features a sizable beer menu along with elevated pub grub. You'll find a hidden dining room behind a bookcase, so be on the lookout for that. The menu is larger than you might think, with open-faced sandwiches, pasta entrees, and, of course, the Brown. Throw in a side of frickles, fried pickles and enjoy!
129 N 2nd St, Louisville, KY 40202
(502) 630-2012
Bourbon and whiskey are a given at Sidebar at Whiskey Row, but there is more awaiting you, too. These historic digs are home to some premium burgers. Get cozy in the dining room while you check out the menu, featuring categories that make you feel like you're in a courtroom. Start with a preliminary hearing, consider the deliberation, and then go in for the trial. Be sure to check out the intense cocktail menu, and if you can't decide, try a flight of bourbons or whiskeys. You wont want to miss this place, it's one of the must-try spots downtown.
984 Barret Ave, Louisville, KY 40204
(502) 289-8227
The Brown Hot Sandwich is typically served at lunch or dinner. Big Bad Breakfast, only open for breakfast and lunch, actually serves it as a dish first thing in the morning. BBB has a menu consisting of pancakes, waffles, skillets, and even a menu for the kids. The vibe is laidback, and while there is an interior dining room, the fun is had on the outdoor patio under one of the colorful umbrellas. In fact, Big Bad Breakfast is so good that we also included it on not one, but two of our lists! You can read more about BBB on our Best Biscuit Breakfast Spots in the City and The Absolute Best Brunch Spots in Louisville!
970 S 3rd St, Louisville, KY 40203
(502) 618-2429
D. Nalley's has been on the Louisville food scene for years. The hangout is unassuming and casual. The family-friendly place offers American comfort food in the form of everything from the KY Brown to ice cream sundaes. Specials are on the board when you come in, so be sure to check them out. Sit at the counter or in a booth. No matter what, you'll need to prepare yourself for a large menu and generous portions.
For more information on where to eat and drink in Louisville, check out our city page!
Editor's Note: This article was originally published on September 18, 2022 and last updated on March 1, 2023. Please refer to restaurant websites and social media pages for the most up-to-date information.