Where to Eat Near Ball Arena in Denver, CO (Updated May 2023)
Băo Brewhouse
Rioja
Mercantile Dining & Provision
Tavernetta
Briar Common Brewery and Eatery
Root Down
Breckenridge Brewery Mountain House Restaurant
Jovanina's
Coohills
ChonLon
The Nickel
Nothing is better than grabbing some bites and pints after cheering on the Denver Nuggets, the Colorado Avalanche, or your favorite musical act at Ball Arena! Located on Denver's main thoroughfare in downtown, Ball Arena is a quick sprint away from many of the city's best restaurants. We've compiled a list of the eight best places to eat near Ball Arena in Denver, CO.
Băo Brewhouse
1317 14th Street, Denver, CO
(720) 324-8675
The split between a tea room and tap room makes Băo Brewhouse the best post-event spot for both games and concerts in Denver. In the tap room, we discovered an experience of an American brewery intersecting with the street markets of China. Street food culture comes alive with dim sun, cheese rangoon, Sichuan chicken, and shrimp sui-mai. The Drunken Empress noodles made with a hint of Tennessee whiskey turned out to be the hit of our table! The tea room at Băo Brewhouse offers upscale family-style dining full of whole fried red snapper, short-rib spicy noodles, and unforgettable pork dumplings.
Rioja
1431 Larimer Street, Denver, CO
(303) 820-2282
It was so fun to get out on Vibrant Larimer Street on a weekend evening in Denver during a visit to Rioja. Rioja impressed us with an experience that started with a fig-goat cheese tart for an appetizer. The items from the dinner menu that left us raving included the grilled Spanish octopus, Colorado lamb loin, and halibut with saffron-braised fennel. The warm fig beignets sealed the deal of making this one of the best restaurants near Ball Arena.
Mercantile Dining & Provision
1701 Wynkoop Street, Denver, CO
(720) 460-3733
In addition to being an amazing restaurant, Mercantile Dining & Provision is a great pick if you're traveling into the city for an event at Ball Arena by train because it's adjacent to Union Station. We were happy to have some extra time during our visit to start with oysters and beef tartare. A pappardelle dish made with pork, sweet pepper ragu, breadcrumbs, and oregano was mouthwateringly perfect. It was also easy to savor every bite of the Mercantile's incredible rainbow trout with capers, sage, brown butter, fennel, and almond.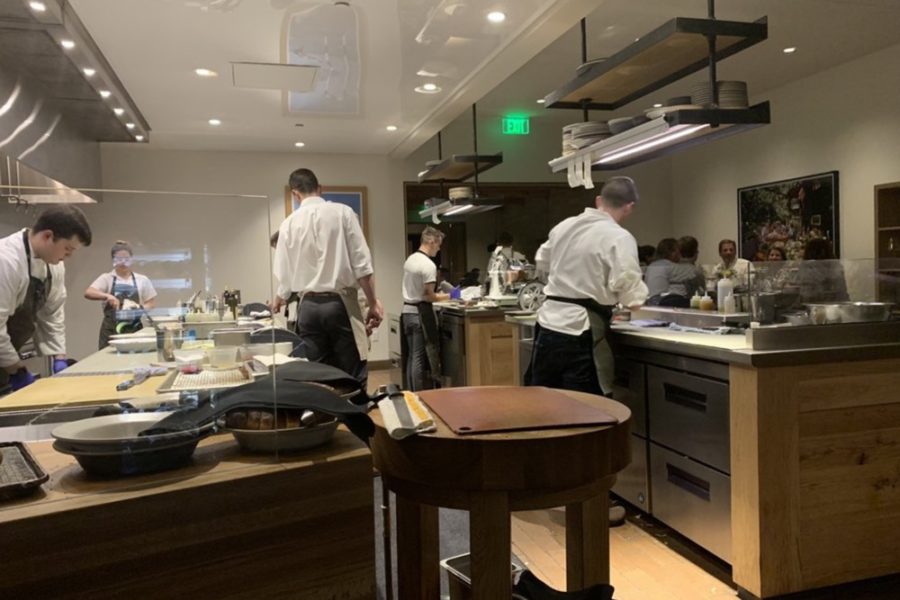 Tavernetta
1889 16th Street, Denver, CO
(720) 605-1889
This top-notch eatery comes from the culinary genius of the James Beard Award-winning team of Frasca Hospitality Group. The excellence shines through in every bite! Tavernetta let us enjoy fresh, handmade Italian pasta just steps from Ball Arena. The only thing hard about a visit to Tavernetta was choosing between cozy indoor seating next to the hearth and al fresco dining on the patio. Accompanying a tremendous wine list was a collection of rigatoni, spaghetti pomodoro, gnocchi with wild mushroom, and Maine lobster served with Calabrian chiles.
Briar Common Brewery and Eatery
2298 Clay Street, Denver, CO
(720) 512-3894
Nestled in Jefferson Park, Briar Common Brewery and Eatery is a perfect spot for grabbing beer, burgers, and appetizers after a game at Ball Arena. The list of pub snacks includes shrimp tacos, fries, mac and cheese, and Buffalo cauliflower. Far from being a greasy spoon, this pub-like eatery boasts yellowfin tuna poke salad, a green chili black bean burger, New York strip, Nashville hot chicken, and much more. The list of beers on tap alone places Briar Common Brewery and Eatery in rarified air.
Root Down
1600 West 33rd Avenue, Denver, CO
(303) 993-4200
Root Down boasts a funky, fresh-from-the-earth menu that has earned this eatery a cult following in Denver. It's a top pick when looking for restaurants with good vegetarian choices near Ball Arena. The dreamy covered patio with string lights on a milky-skied evening created the perfect ambiance for trying fresh, eclectic food. The roasted baby beet salad, summer risotto, and diver scallops were just perfect for a lighter meal. We didn't regret ordering light for dinner when it came time to nibble the honey zucchini cake, warm chocolate brownie, and strawberry kiwi tart for dessert.
Breckenridge Brewery Mountain House Restaurant
1000 Chopper Circle, Denver, CO
(303) 405-6090
Breckenridge Brewery Mountain House Restaurant offers a lodge-like atmosphere that puts the Rocky Mountain spirit in your bones. Of course, the robust draft beers here also help with getting some spirit in your bones. This place knows how to make a Rueben sandwich! Featuring malted corn beef, apple sauerkraut, Swiss cheese, and Thousand Island dressing on marble rye, Breckenridge's Ruben was one of the best we've had! For those in the mood to split something, the chicken wings, fried Brussels sprouts, and pretzel platter are all hits.
Jovanina's Broken Italian
1520 Blake Street, Denver, CO
(720) 541-7721
Who knew there was a sweet, quaint Italian joint so close to Ball Arena? Starting off with the Sicilian sling cocktail was an excellent decision when sitting down among the quaint, slightly tight tables inside Jovanina's. Italian wine flights are also available! The starter list here impresses with fresh focaccia bread, a daily cheese plate, and a fritto misto dish boasting crispy calamari, scallops, prawns, and burnt lemon crema. The nice thing about coming here is that you can simply split a brick-fired pizza if you're not in the mood to make decisions. However, the elk bolognese made with mascarpone ricotta whip, Calabrian hot honey fried chicken, prosciutto-wrapped scallops, and house meatballs might be too tempting to skip. The olive oil cake and chocolate sesame torte are the stars of the dessert menu.
Coohills
1400 Wewatta St, Denver, CO 80202
(303) 623-5700
Tom and Diane Coohill brought their passions together to bring Denver's finest French restaurant to life. The menu is relatively small, focusing on quality rather than quantity, with a clear emphasis on farm-fresh ingredients and countless house-made items. While the pamphlet-length wine list is certainly tempting, don't overlook the creative specialty cocktails.
ChonLon
1555 Blake St #101, Denver, CO 80202
(303) 353-5223
ChonLon is an Asian fusion restaurant in Downtown Denver. The modern Southeast Asian menu reflects Chef Lon Symensma's talent and knowledge of a fine dining experience. ChonLon translates to "big market" in Vietnamese and its namesake is the largest Chinese-influenced market in Saigon. ChonLon's menu is unique as it plays on traditional cuisines found in the Far East coupled with unique European influences. The restaurant is sleek and elegant and matches the high-end dishes. Each dish is a unique blend of culinary experiences. For example, ChonLon features French onion soup inside handmade dumplings. This is one example of their unique take on Southeast Asian and European meals.
The Nickel
1100 14th St, Denver, CO 80202
(720) 889-2128
The Nickel is a charming American bistro with a lively bar scene and leather seating throughout the interior. It is located inside Hotel Teatro, adding to the overall vibe. The place doesn't open until the late afternoon, except for Sundays, when it is only open for breakfast and brunch. The menu changes based on the season, though you'll find that everything is fresh and procured from local vendors. It's one of the reasons why it's been given a number of Diner's Choice awards by OpenTable.
Editor's Note: This article was originally published on March 3, 2023 and last updated on May 2, 2023. Please refer to restaurant websites and social media pages for the most up-to-date information.