7 Can't Miss Tourist Attractions Within 5 Hours of Denver, CO
Rocky Mountain National Park
Garden of the Gods
Maroon Bells
Wild Animal Sanctuary
Great Sand Dunes National Park
Dinosaur National Monument
There's so much more to Colorado than Denver. Jump in your car and go for a short drive to get some different scenery for the weekend. There are countless, outstanding weekend getaways and day trips that are within five hours of the Mile High City. It's a great way to embrace the stunning nature that surrounds you in Colorado. For a quick trip that won't take you too far from Denver, check out this list of some beautiful places to knock off your bucket list.
View this post on Instagram
Visit Georgetown on the way to White River National Forest
577 Twenty-Second St, Georgetown, CO 80444
(720) 619-7264
We have the perfect day trip for you that is only about an hour outside of Denver! You're gonna hop in the car and head west. White River National Forest is roughly 70 miles outside of the city and the whole drive is beautiful. However we have a little pit stop planned for you. About 30 minutes before getting to the national forest is a very small, movie-like town called Georgetown. The whole town only stretches for about a mile, but it is well worth the stop.
Cabin Creek Brewing is the most quaint little brewery situated right on the most picturesque creek. Hop out and grab a couple brews and a snack, fish a little, skip some rocks, whatever your heart desires. You'll love the peacefulness that Georgetown brings. Once you've had a nice little break here, continue your drive through the mountains till you get to White River National Forest. You'll simply feel like you are on top of the world here!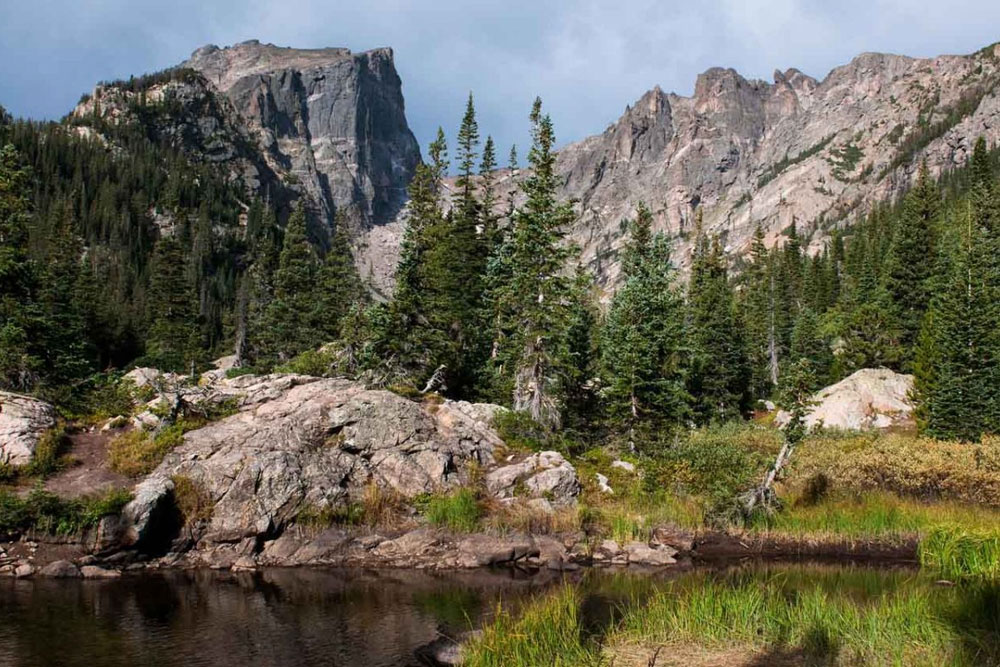 photo credit: coloradowildernessridesandguides.com
Rocky Mountain National Park
1000 US Hwy 36, Estes Park, CO 80517
(970) 586-1222
The Rocky Mountain National Park is one of the largest and most exciting parks in the nation. There's literally something for everyone, including hikers, couples, and families. With 300 miles of hiking trails, you'll always have a way to keep busy. Beyond hiking, you can partake in ranger-guided activities, the junior ranger program, wildlife viewing, and even fishing.
A timed entry or service reservation is required so that you can enter the park and the outlying areas. Camping and backpacking opportunities are abundant, so you can choose to make reservations and see what the park is like underneath the stars. A visitor's shuttle makes it easy to get to the various hiking trails. Plus, you can park nearby and let public transit take you into the park.

photo credit: cpr.org
Garden of the Gods
1805 N 30th Street, Colorado Springs, CO 80904
(719) 634-6666
Garden of the Gods is so much more than a registered National Natural Landmark. It's a place where you can go with your dog (as long as it's leashed), go rock climbing, and simply enjoy all of the natural beauty.
Trails and hiking are made simple with the full-color trail maps that you can pick up at the Visitor Nature Center information desk. There are self-guided tours as well as guided walks. With 21 miles of trails, you can decide how hard of a hike you want.
You'll want to check out the calendar before you visit as there are a number of annual events that take place within the Garden of the Gods, including a 5k, The Starlight Spectacular bike ride, and Earth Day.

photo credit: commons.wikimedia.org
Maroon Bells
Maroon Bells, Gunnison County, CO 81654
Maroon Bells is one of the most photographed locations in the entirety of the United States. Depending on when you visit (the park is open all year-round), you can choose to walk, bike, snowmobile, and even cross-country ski throughout the area. You'll experience everything from multicolored slopes to jagged peaks. Wildlife watchers and hikers alike enjoy the peaks that rise more than 14,000 feet.You can head up to the summit or embrace the beauty around Maroon Lake, where you're bound to see plenty of beavers that call the area home.
There are no restaurants for miles, so it's a good idea to pick up some food on the way or pack a picnic lunch before you head into the area. Reservations are needed whether you come in via vehicle or shuttle.

photo credit: businessyab.com
Wild Animal Sanctuary
2999 County Road 53, Keenesburg, CO 80643
(303) 536-0118
When you want to see animals up close and personal without going to a zoo, the Wild Animal Sanctuary is the perfect option. The location started out as a rescue center and has become about educating people about the animals, too.
The elevated walkway is the longest in the world at over 1.5 miles long. It allows you to see animals in many habitats. Some get incredibly close, which provides an unexpected and unique experience. You'll see African lions, tigers, bears, and mores across 794 acres.
Wild Nights are special events when you get to come to the sanctuary at night when the weather is cooler, and the animals are more active. While you're in the area, you can extend your stay by exploring more of the sights nearby, including Eastern Plains.

photo credit: services.uslocalsearch.info
Great Sand Dunes National Park
11999 State Highway 150, Mosca, CO 81146
(719) 378-6395
Great Sand Dunes National Park will show you another side of what Colorado has to offer. These are the tallest dunes in North America. The area has a bit of everything, including wetlands, tundra, and grasslands.
Starry skies are abundant, so this is a popular place to stay overnight. It's open 24/7, so you can choose any day of the year to spend the night under the stars. The park has actually been certified as an International Dark Sky Park, so with a long exposure on a camera, you can pick up the intensity of the Milky Way Galaxy.
If you're up for some adventure, you might want to check out the sandboarding and sand sledding that goes on within the park. You can also choose to cool off by diving into Medano Creek.

photo credit: trip.com
Dinosaur National Monument
4545 Hwy 40, Dinosaur, CO 81610
(435) 781-7700
Dinosaur National Monument allows you to explore parts of both Colorado and Utah. It's a chance to embrace the prehistoric times where you'll see incredible remains of dinosaurs embedded in the rocks. You'll also find petroglyphs to show some of the earliest cultures found within the area.
There are over 1,500 dinosaur fossils for you to see, though there's so much more to do in this area. You can see the remote canyons by river rafting, spending the night at one of the six campgrounds, or by taking a hike.
A monument store operated by the National Park Service allows you to pick up some maps and trail guides and also shop for items that focus on everything from paleontology to Native American rock art.
For more recommendations on things to do in and near Denver, check out our Denver, CO page here!