The 10 Best Burgers in Washington DC
Ghost Burger
Duke's Grocery
Lucky Buns
Le Diplomate
The Tune Inn
Bier Baron Tavern
Rebellion
Sequoia
Z Burger
The Salt Line
Beef, Bread, Cheese, and whatever your heart desires – it's the American Way! What better place to discover this American culinary classic than in our nation's capital. Below, is our list of some of the beefiest, juiciest, most mouthwatering collection of the best burgers in Washington DC.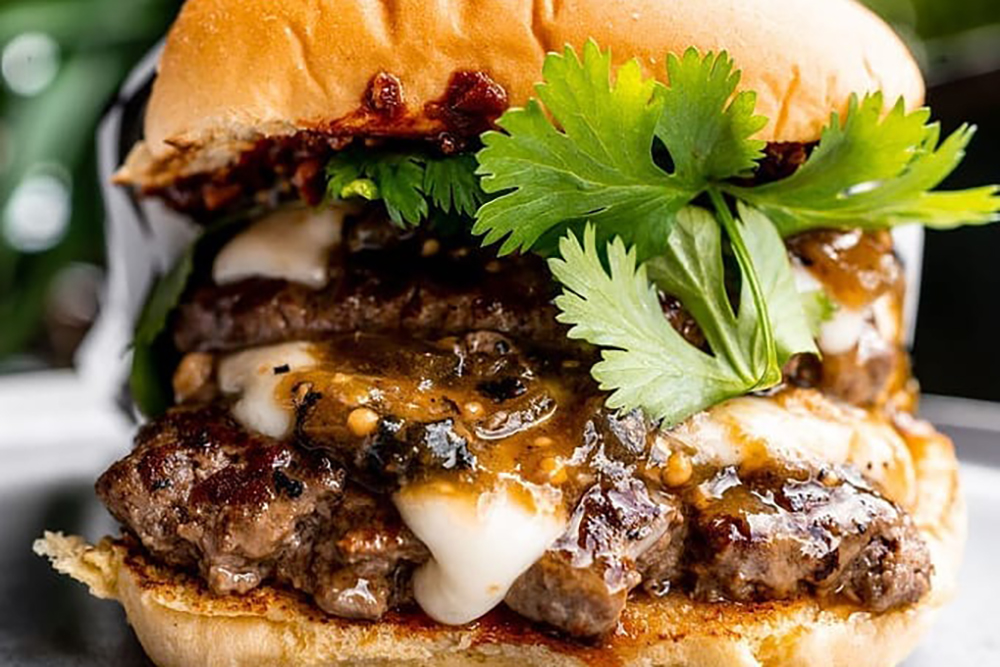 1250 9th Street NW, Washington, DC 20001
What's the culinary equivalent of switching political parties? Ghostburger DC is the creation of DC's best Mexican restaurant Espita. Offering classic Smash style burgers, they also bring in their Mexican culinary knowledge with the incredible La Hamburguesa and the Espita "papas salt" on their crinkle cut fries.
Dupont Circle: 1513 17th Street, NW, Washington, DC 20036
Woodley Park/National Zoo: 3000 Connecticut Ave NW, Washington, DC 20008
I wish Duke's Foggy Bottom location had existed when I was a GW undergrad. A multiple "best Burger in DC" award winner from The Washington Post, Thrillist and other publications, Duke's Grocery is inspired by the tradition of East London greasy spoons with a modern, delicious twist. With offerings like the Proper Burger (Angus beef, gouda, pickles, red onion and sweet chili sauce) and the Wagyu Beef Burger (Wagyu patties, duke's jam, cheddar, lettuce and garlic aioli on brioche) there's a reason Duke's is on this list.
Adams Morgan: 2000 18th Street, NW, Washington, DC 20009
Union Market: 1309 5th Street, NE, Washington, DC 20002
Capital One Arena: 601 F Street, NW, Washington, DC 20004
Reflecting DC's international flair, Lucky Buns is inspired by burger creations from Southeast Asia, Australia, the UK and other global burger loving areas. They use locally sourced produce and bread, and focus on fresh ingredients. With 13 different burger/sandwich combos and options to go bunless and turn it into a salad, Lucky's is a brand new burger experience.
1601 14th Street, NW, Washington, DC 20009
A true French cafe in Washington DC, Le Diplomate is a love letter to French culture – and French cuisine. The award winning Le Diplomate burger is an 80/20 blend of ground beef, American cheese, red onion, "hamburger dill" pickles, and their special burger sauce (basically, a mayo-pickle-chili-oniony blast of deliciousness).
331 Pennsylvania Avenue, SE, Washington, DC 20003
The Tune Inn has been family owned and operated for 70 years, once acting as a speakeasy, a candy kitchen and a men's tailor – now they're burger geniuses. If you missed Guy Fieri munching on their deep fried Beer Battered Burger, it's worth taking a look – but if you're not in for the full belly busting experience, their classic burger is mouthwateringly perfect, too.
1523 22nd Street, NW, Washington, DC 20037
Located on the former site of the Brickskeller – a classic DC drinking hole known for having nearly every beer from around the world on the menu – the Bier Baron Tavern brings an expanded focus on the menu – and delicious burgers along with it. If you're visiting earlier in the day, start with a Hair of the Dog – 8oz Wagyu beef topped with cheddar, a fried egg and bacon with lettuce, tomato and onion on an ancient grains bun.
1836 18th Street, NW, Washington, DC 20009
Inspired by the Whiskey Rebellion and a streak of American independence, we salute their inspired take on burgers. Particularly the Ramsay Bolton – bacon jam, aged cheddar, pickles, mayo on a sesame seed bun. If you're feeling beefed out, their chicken sandwiches – The Chet Stedman and Kenny Powers – are also worth giving a try.
3000 K Street, NW, Washington, DC 20007
DC's best waterfront burger is at Sequoia! Angus beef, cheddar cheese, a brioche bun, and one of the nicest places in the city to have a drink. Head there earlier in the day to avoid the Happy Hour crowds and enjoy one of the best burgers in Washington DC.
Tenleytown: 4321 Wisconsin Avenue, NW, Washington, DC 20016
P Street: 2157 P Street, NW, Washington, DC 20037
Michigan Park: 4975 South Dakota Ave, NE, Washington, DC 20017
Penn Quarter Metro: 641 Indiana Avenue, NW, Washington, DC 20004
A mid-Atlantic burgeoning restaurant chain, Z-Burger is doing its best to become the In N' Out of the Chesapeake. And if their incredible burgers are any indication, they're doing something right. Of course, every burger is customizable, but we recommend adding a fried egg and their Z-sauce for the full experience.
79 Potomac Ave, SE, Washington, DC 20003
The Southeast neighborhood's best seafood restaurant might also make the best burgers in Washington DC. Their New England Smash Burger features 2 ground chuck patties, American cheese, lettuce, tomato, pickle, and mayo on a sesame seed bun. Grab one before game time at Nats park!