12 Michelin Star Restaurants That Are Actually Worth The Hype in San Diego, CA
Cloak & Petal
Fort Oak
Kingfisher
Kettner Exchange
Juniper & Ivy
Craft & Commerce
Ciccia Osteria
Coasterra
Mabel's Gone Fishing
Siamo Napoli
The Fishery
Great Maple
There's no mincing words when you're putting in the time and money to visit a Michelin restaurant. 9 times out of 10, you're going to be spending a pretty penny, so you want to make sure everything about the experience is impeccable. So which prestigious San Diego eateries are actually worth it? Get your money's worth on the SoCal dining scene with these 12 Michelin star restaurants that are splurge worthy in San Diego, CA!
Cloak & Petal
1953 India Street, San Diego, CA
(619) 501-5505
Located in San Diego's Little Italy, Cloak & Petal offers authentic Japanese sushi, appetizers, and small plates in a beautifully curated space. The restaurant's sprawling sake bar set beneath bundles of cloud-like cherry blossoms is the aesthetic highlight! While everything here is beyond fresh and flavorful, the Tokyo gangster roll featuring wagyu strip, shrimp, asparagus, avocado, yamagobo, yuzu kosho tosazu, salsa verde, red onion, and micro cilantro hits in a special way.
Fort Oak
1011 Fort Stockton Drive, San Diego, CA
(619) 722-3398
Fort Oak is the spot for those craving smoky, wood-fired notes. It also takes the top spot when looking for a place to share a seafood tower with friends! Happy hour at Fork Oak brings $1 oysters on the half shell. Of course, the sourdough with house-cultured butter might be worth the visit alone. The ribeye, pork chop, and New York Strip are all done to perfection.
Kingfisher
2469 Broadway San Diego, CA
(619) 432-1014
Perched in Golden Hill, this Vietnamese treasure peppers hints of French cuisine and pure California into its menu. Little neck clams, Vietnamese curry, and wild mushroom congee are some of the standouts from the menu. However, it's the drink list featuring a Singapore sling, Saigon moped, and other cocktails that will make you start to crave this place after the first visit.
Kettner Exchange
2001 Kettner Boulevard, San Diego, CA
(619) 255-2001
Clear your schedule to get to Kettner Exchange for a yummy dirty verde cocktail made with tequila blanco, poblano chile liqueur, cucumber, lime, and paprika oil. While the cocktails here are enough to make Kettner Exchange the best bar and restaurant in San Diego, it's the progressive American menu featuring hot-oiled seared salmon, whipped buttermilk ricotta served with bread, duck meatballs, and pork chops that gets you hooked! Leave room for the pineapple sorbet served with vanilla panna cotta, walnut tuile, mint, and bee pollen!
Juniper & Ivy
2228 Kettner Boulevard, San Diego, CA
(619) 269-9036
Local farmers and fishermen deliver ingredients to this restaurant daily. While the rotating menu at Juniper & Ivy ensures that every plate is fresher than fresh, diners can usually expect items like oysters, halibut, rockfish, spot prawns, fried pink snapper, artichokes, steaks, pork chops, and more in abundance! The mixologists here redefine what a cocktail can be.
Craft & Commerce
675 West Beech Street, San Diego, CA
(619) 269-2202
Craft & Commerce is a fun spot if you love an eccentric atmosphere! Just make sure you're not bothered by a lion staring at you while you down your plate of lamb lollipops or buttermilk biscuits with burrata, pear and prosciutto. While nobody is sure if those taxidermied animals peeking out from nearly every corner are real, the fresh ingredients in every bite certainly are!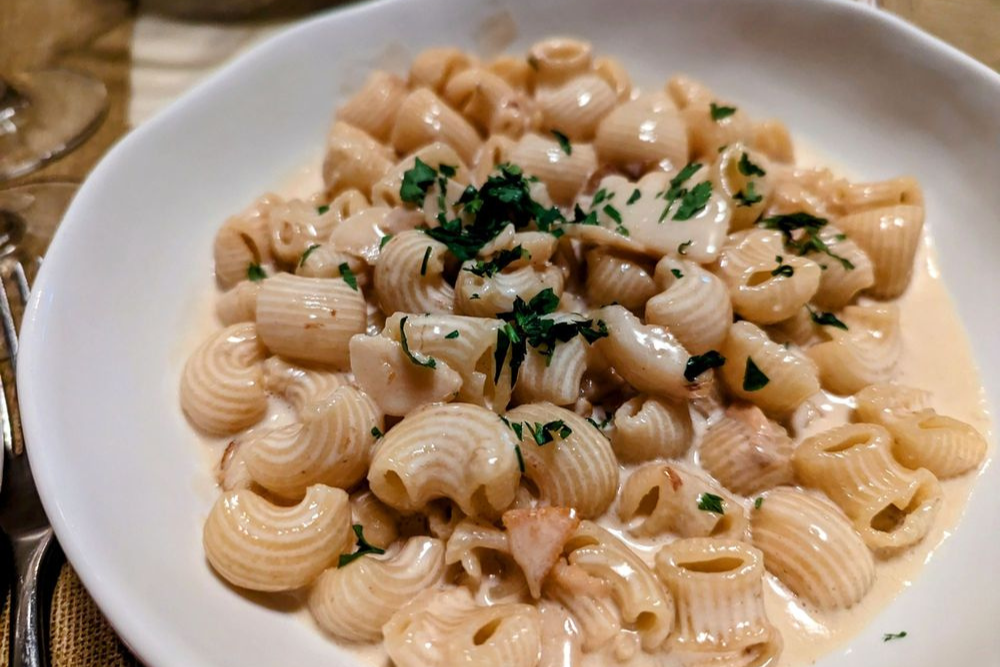 Ciccia Osteria
2233 Logan Avenue, San Diego, CA
(619) 674-4069
Ciccia Osteria offers separate menus that are perfect for gluten-free and vegan dining in San Diego. The regular menu is a carnival of homemade pasta dishes, salads, fish, and meats. The must-try item from the appetizer list is the mushroom flan. Bubbles, beers, whites, and reds help to make Ciccia Osteria's flavorful menu even more fun.
Coasterra
880 Harbor Island Drive, San Diego, CA
(619) 814-1300
The view alone makes Coasterra one of the best spots for oceanside dining in San Diego! Enjoy water and skyline views while nibbling from a modern Mexican menu that includes a raw bar. Top picks to highlight on the menu include white corn and poblano soup, rainbow trout a la plancha, blood orange beer battered fish tacos, and jackfruit barbacoa tacos.
Mabel's Gone Fishing
3770 30th Street, San Diego, CA
This is a great place for splitting plates. Bread and butter, oysters, clams, swordfish schnitzel, scallops, and mussels escabeche are all great for sharing bits and bites over conversation. The sharp wine list is also perfect for a social night out.
Siamo Napoli
3959 30th Street, San Diego, CA
(619) 310-6981
Siamo Napoli is widely considered the best Italian restaurant in San Diego. Mangia bene from a menu consisting of calamarata, gnocchi, capunti with fennel sausage, and ravioli con melanzane. If you're feeling more casual, the pizza menu is perfect. The Italian vibes get especially strong with an aperitivo sour or Napoli old fashioned from the cocktail menu.
The Fishery
5040 Cass Street, San Diego, CA
(858) 272-9985
Come for dinner or lunch to experience the freshest seafood in San Diego! The long list of hot and cold starters presents the perfect opportunity to try a seafood tower, oysters Rockefeller, or a classic roll. The robust dinner menu offers swordfish chop, Columbia River king salmon, crusted Alaskan halibut, and more.
Great Maple
1451 Washington Street, San Diego, CA
(619) 255-2282
Offering modern American fare, Great Maple is one of the best brunch spots in San Diego. The French toast logs featuring thick-cut brioche, warm maple bacon syrup, and fresh blueberries are enough to entice anyone through the door. It only gets better with chicken-fried doughnuts, ribeye hash, and the smoked bacon scramble.
For more recommendations on where to eat and drink in the city, check out our San Diego page here!