10 Rooftop Restaurants in Phoenix With Stunning Views
Bitter and Twisted Cocktail Parlor
Upstairs at FLINT Rooftop Restaurant
Floor 13 Rooftop Restaurant
From The Rooftop Restaurant
Lustre Rooftop Restaurant
Compass Arizona Grill Rooftop Restaurant
Blue Hound Kitchen & Cocktails
Sotol Modern Cocktail Kitchen
Outrider Rooftop Restaurant
Pedal Haus Brewery
There are so many things to love about Phoenix. Be it the warm weather, beautiful botanical gardens, excellent golf courses, or the fantastic food and beverages scene, you will surely enjoy your time in this city. Check out our list of best rooftop restaurants in Phoenix while you're planning your next trip to the city.

photo credit: Thrillist
Bitter and Twisted Cocktail Parlor
West Jefferson Street, Warehouse District, Phoenix, Arizona, 8500
(602) 340-1924
The main reason you need to go to this lounge is for the world-acclaimed cocktails and drinks. You can taste the diversity and uniqueness in each cocktail served at Bitter and Twisted Cocktail Parlor. The drinks are delicious and are pretty well-priced, starting from 13 US dollars. The menu also features some of the cleanest and tastiest food and bar bites to go with your drink. Most people rave about the mouthwatering pizza served here. There is a cashback of 20 US dollars for every 200 US dollars spent on food or drinks. Now that's a steal! Rooftop restaurants in Phoenix don't get better than this.

photo credit: flintbybaltaire.com
Upstairs at FLINT Rooftop Restaurant
2425 E. Camelback Rd. Phoenix, AZ 85016
(602) 812-4818
A great choice when you are looking to destress from a long day at work, watch the sunset and enjoy some beautifully crafted bites is enjoying a drink at Upstairs. The main attraction here is the scenery, especially the Baltimore mountain. You really can't beat this view. As for the menu, you will surely enjoy the coastal and Middle East inspired foods.
Floor 13 Rooftop Restaurant
15 E. Monroe St., Phoenix
(602) 343-0006
Floor 13 sits atop the Hilton Garden Inn on, you guessed it, the 13th floor. It offers a breathtaking view of the downtown area, with a nice menu of small plates as well as a robust drinks menu. One of the finest cocktails on their menu is the Blackmail, consisting of: Kentucky bourbon, blackberry, pomegranate, lime, bitters, and. flamed cinnamon, offering a tart yet warm sip appropriate for the wide range of weather you can expect in PHX.
From The Rooftop Restaurant
222 E Portland Street, Phoenix, Arizona 85004
(480) 462-6147
There's always a frenzy of action at the Cambria Hotel, from the Breakfast Bitch on the ground level to From the Rooftop on the roof. With a gorgeous POV of the city and a pool in the center, you can count on a party any time you're here. Check out the Rooftop Collins, with cucumber grapefruit gin, cucumber simple syrup, lemon, grapefruit, and a gin float. It's sweet and sour and almost dangerously tasty. It's quite obvious why the Phoenix New Times voted this the best rooftop bar in the city.

photo credit: ihg.com
Lustre Rooftop Restaurant
E. Jefferson St., Phoenix
(602) 258-0231
This restaurant does not have reservations; however, large parties still are usually seated quickly. For the most part, people seem to thoroughly enjoy the food menu and the beautiful view overlooking the city. When you book a stay here, you will enjoy some perks afforded chiefly for the guests, such as priority sitting when the restaurant is busy, unlimited access to the pool and reserved parking. They also deliver and take out if you want to sample some of their unique dishes at home.
Compass Arizona Grill Rooftop Restaurant
Hyatt Regency Phoenix, 122 North 2nd Street Atop, Phoenix, AZ 85004
(602) 440-3166
The Compass is on the 24th floor of the Hyatt, but you feel like you're hundreds of stories above the streets. This would provide enough of a view, but you'll never get tired of your perspective because the whole restaurant rotates! They have plenty of signature cocktails and food, but make sure to ask about their featured drink, which is often the finest on the menu.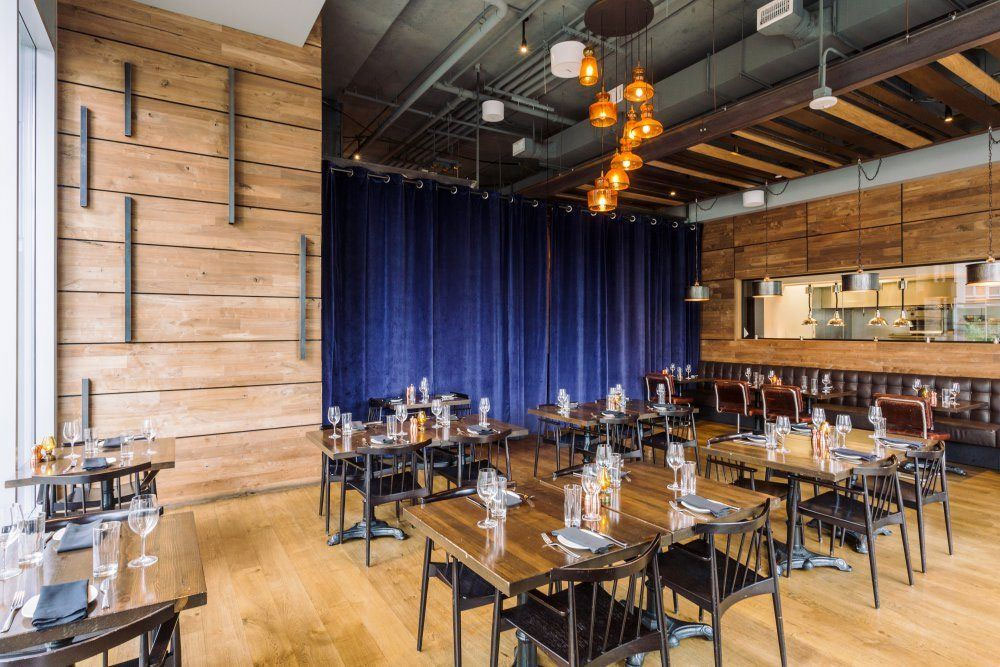 photo credit: eventective.com
Blue Hound Kitchen & Cocktails
2 East Jefferson St, Phoenix, AZ 85004
(602) 258-0231
The cuisine here primarily revolves around New American dishes, which means plenty of delicious items to pork out on. The seafood platters, ribeye steak, salads, and ribs are all delicious dishes. The restaurant is sophisticated enough for fancy dinners and business meetings and small enough to be an excellent local and intimate hangout option too.

photo credit: insider.com/guides
Sotol Modern Cocktail Kitchen
313 N Gilbert Rd Suite 301 Gilbert, AZ 85234
(480)-550-6300
Do you want to experience some of the best dishes enjoyed by the locals? Then try out the cuisine at Sotol Modern Cocktail Kitchen. The most ordered dishes and drinks include the homemade fry bread, lemon tarts and agave spirits sure to make for a delightful afternoon as you wait to catch the beautiful evening skyline. It is also a potent place to make reservations when hosting special events.

photo credit: phoenixnewtimes.com
Outrider Rooftop Restaurant
7142 E. 1st St. Scottsdale, AZ 85251
(480) 590-3864
This is where posh meets an impressive cocktail. The view from the seventh floor of the Canopy by Hilton, where the lounge sits, will keep you coming back again and again. The Camelback Mountain is an excellent backdrop as you sip on delicious cocktails.
Pedal Haus Brewery
214 E Roosevelt St Suite 4, Phoenix, AZ 85004
(623) 213-8229
Pedal Haus is one of the newer breweries on the Phoenix scene but, with a beautiful rooftop biergarten and a huge interior bar and several house-brewed beers. The rooftop doesn't have much of a view, but with all the lush flora and charming aesthetic, you'll be perfectly content to enjoy the beautiful weather with a cold beer.
Editor's Note: This article was originally published on May 25, 2022 and last updated on September 20, 2022. Please refer to restaurant websites and social media pages for the most up-to-date information.