Unmissable Food Halls in Louisville, KY
The Village Market
Falls City Market
The StrEATery
Fourth Street Live!
Food halls have been around for years now, though they seem to be recently be making quite the splash in Louisville. Dining at various food halls can be a great way to explore a collection of smaller restaurant concepts, as well as find something everyone likes if you're in a group of picky eaters! Eat at one or taste from them all–there's no wrong way to dine! If you know you're in the mood for some good food but not sure what kind, check out our list for great food halls in Louisville, KY.
Logan Street Market
1001 Logan St, Louisville, KY 40204
(502) 384-2001
Logan Street Market is 25,000 square feet of deliciousness. There are over two dozen locally-owned restaurants and shops that operate, providing you with everything from craft beer to crepes to chili. There's even a bakery for dogs, allowing you to bring your dog with you for a bite. Seating is available on two levels as well as outside. You'll always find food from around the world. And throughout the year, you'll find workshops, live music, and other exciting events.

photo credit: Yelp
The Village Market
712 Brent St, Louisville, KY 40204
The Village Market is found within the historic neighborhood of Paristown. All of the restaurants are local and independently run. There is a total of five, allowing you to enjoy fried chicken, burgers, tacos, Filipino bites, and even donuts. An added bonus is that there's also a bar, making it easy for you to grab liquid libations in the form of cocktails, beer, and wine while you dine. The market is open seven days a week and stays open until 10 P.M. on Friday and Saturday nights.

photo credit: Yelp
Falls City Market
210 W Liberty St, Louisville, KY 40202
(502) 313-6664
Found within the Omni Hotel, the Falls City Market helps to introduce guests to the many culinary treasures of Louisville. We love that we can feed our culinary cravings with everything from fresh coffee to baked bread to individual culinary stations. Iron Quarter offers brick-oven pizza while Chop & Roll offers a full sushi bar. And there's always a food truck parked inside of the hotel, too, offering up a bit of everything. There's plenty of casual seating for you to take advantage of or you can get your items to go.

photo credit: Facebook
The StrEATery
304 W Woodlawn Ave, Louisville, KY 40214
The StrEATery is located within a Beechmont building. It is home to six food concepts, including Asian fusion, sushi, and brunch. The founder of the food hall is the owner of Fresh Out the Box, Dung Tran, who operates the Asian fusion concept. The space is huge with both indoor and outdoor seating. The rustic interior has an industrial vibe with exposed wooden beams. It is expected that many of the concepts within the hall will change out periodically as their brands grow and they open full-sized restaurants. We love going here simply because it's a chance to taste some of the latest and greatest food trends.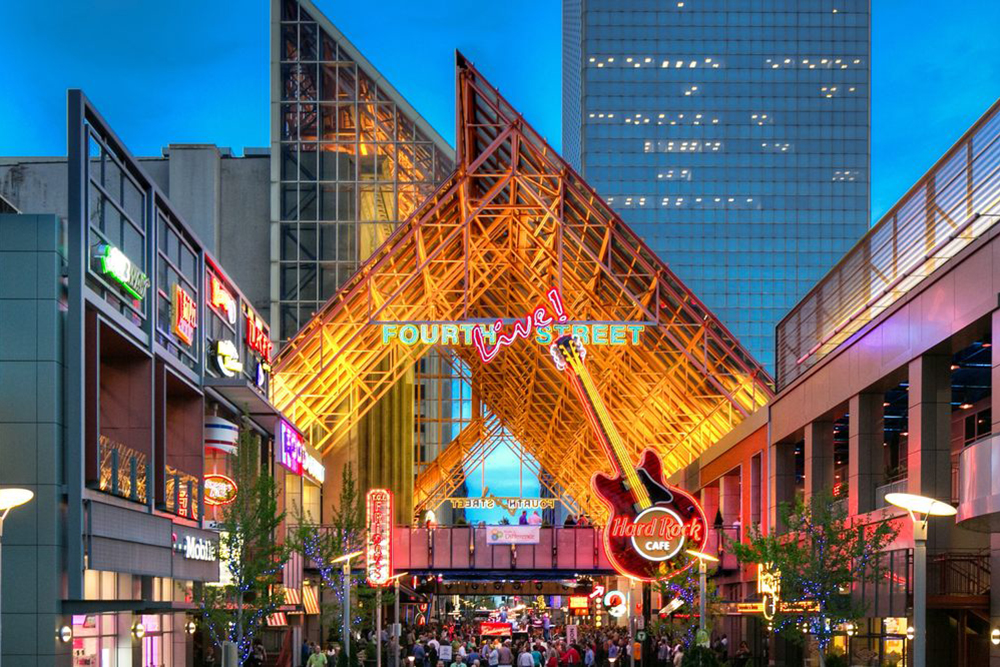 photo credit: Yelp
Fourth Street Live!
411 S 4th St, Louisville, KY 40202
(502) 584-7170
Fourth Street Live! is so much more than just a place where you can eat. The 350,000-square-foot complex provides entertainment as well as retail spaces. Whether you are looking for a quick bite, a sit-down restaurant, or a bar, you'll find it all on one street. Gordon Biersch Brewery Restaurant is one of our favorite stops, though the Pizza Bar can't be forgotten, either. For dessert, you can stop by The Fudgery where you'll find some amazing confectionery. You'll want to check out the event calendar on the website, too as there is almost always something happening.